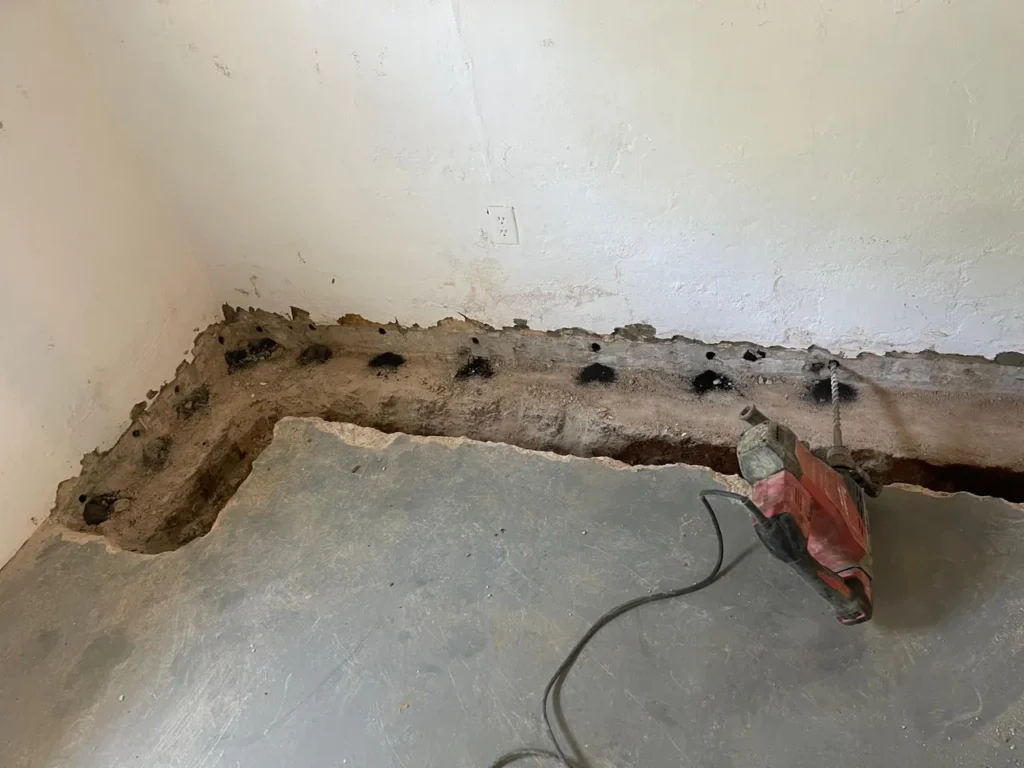 Keep Your Biggest Financial Investment Dry
Buying a home is likely the biggest financial decision you will ever make. This is just one reason why you want to protect it from damage due to the weather and any water-related problems.
Beyond Waterproofing and Foundation Repair offers you complete solutions to all your waterproofing needs. We'll work around the clock to ensure we solve any possible problems that can lead to a flooded or water-damaged basement. Every home is different which is why our technician will determine a custom solution to solve your problem and protect your basement.
We are a fully bonded company and carry liability insurance for your peace of mind. When you need waterproofing for your basement, call us right away! Our staff speaks English, Spanish and Portuguese.
Interior Basement Waterproofing System
Exterior Basement Waterproofing System
Common Questions About Basement Leaks
Why does my basement leak?
Leaky foundations cause all kinds of damage to basement walls, whether you live in an older home or a newer one. If your basement is leaking, you need to have it repaired ASAP. And if it isn't, you really should have that extra layer of protection.
When a basement is excavated, the soil that is backfilled around the new foundation will be much looser than the surrounding ground. Unfortunately, this means loose earth will collect water much faster than undisturbed soil. After the foundation walls are poured and the ground is filled in, the soil that surrounds the foundation will collect water and hold moisture up against the new foundation walls. The water will accumulate over time and eventually enter the foundation walls.
Water can get into your home through holes and cracks of any size. You may not even realize the cracks exist because they're so small!
Beyond Waterproofing and Foundation Repair will find any source of water getting into your home. By repairing the cracks in your foundation and suggesting proper outdoor drainage services, we can keep water out of your basement for good!
How can I stop my basement from leaking?
The only way to relieve this pressure is through the installation of protective layers on the walls through a system of weeping tiles and sump pumps. This will redirect any accumulation of water away from your foundation, allowing the surrounding soil to dry and settle.
With the right waterproofing methods, your basement will stay dry. This includes a series of foundation protective coatings and sealers which will keep water from penetrating the foundation's walls. Weeping tiles will carry water away from your foundation and protect your basement from flooding due to extreme weather. A membrane we install will protect the wall from damage and keep your waterproofing system intact.
Why is it important to stop leaks?
Moisture can cause a variety of damage to concrete, timber, brick and block structures, which can mean thousands of dollars in repairs.
Maintaining a dry basement is more important than you may realize. Mold spores can grow in the dampness and then travel throughout the home, leading to respiratory and other health issues.
Protecting Your Basement From Water Damage
Call for a Free Estimate Today!
"If I could give more than 5 stars I would! We had several major leaks and Beyond Waterproofing was very thorough in researching the engineering and floor plans before providing us with an reasonable estimate and solution. They were extremely professional to work with and I appreciated their attention to detail as they went out of their way to match the wood and stain of our existing baseboards as closely as possible. I couldn't be more pleased with their service and communication and highly recommend them!"
- Vivian M via Google